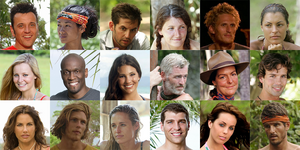 Swimmer's Survivor: Guatemala is the 5th installment of Swimmer's Survivor. The season features 18 contestants: 9 brand new castaways competing against 9 second-chances for the title of Sole Survivor.
Announcement/Production
SS5: Guatemala was declared for production on November 1st. That day, a sign up video was released, SS5 Auditions, allowing all new players to audition for the nine open spots for the non-returning players.
Twists/Changes
Early Merge  - Despite having a smaller cast of only 18 players, the contestants still merged at the final 12. 
Delayed Jury - Although the tribes merged at the Final 12, the jury did not begin until the final 11. As a result, Tom made the merge, but did not make it into the jury. 
No Tribe Swap - SS5 is the first season since SS1 that has NOT featured a tribe swap. 
Final 2 FTC - SS5 is the first season since SS2 to feature a Final 2 at the Final Tribal Council. 
Kidnapping - This season featured the introduction of the "kidnapping" twist, wherein the losing tribe would kidnap someone from the winning tribe. That person would then receive extra clues to the location of the hidden immunity idol. 
Integration - Although this season was perceived to be Noobs Vs. Vets it was announced that both tribes would be integrated to feature both new and returning players.
Castaways
Episode Guide
Episode
Air date
Immunity
Challenge
Kidnapped
Eliminated
Vote
Finish
1
Hang On
November 18th, 2013
Yaxhá
Bobby Jon
7-2
1st Voted Out
Day 3
2
Can't Wait
November 21st, 2013
Nakúm
David
9-0
2nd Voted Out
Day 6
3
Expect the Slaughterhouse
November 23rd, 2013
Yaxhá
Brenda
Danielle
7-1
3rd Voted Out
Day 8
4
A Storm is Coming
November 24th, 2013
Yaxhá
Brenda
Zoe
4-3*
4th Voted Out
Day 11
5
Unnerving
November 27th, 2013
Nakúm
Fabio
Julia
6-2
5th Voted Out
Day 14
6
Shake Things Up
December 1st, 2013
Yaxhá
Natalie
John
4*-1-1
3-1
6th Voted Out
Day 17
7
Public Enemy
December 4th, 2013
Brenda
Tom
11-1
7th Voted Out
Day 19
8
Divided In Two
December 7th, 2013
Laura
Brenda
5*-5-1
8th Voted Out
1st Jury Member
Day 21
9
Hot Seat
December 9th, 2013
Stephenie
Fabio
5-5
5-3
9th Voted Out
2nd Jury Member
Day 24
10
Intense
December 14th, 2013
Natalie
Stephenie
5-4
10th Voted Out
3rd Jury Member
Day 27
11
Controversial
December 19th, 2013
Lex
Gervase
6-2
11th Voted Out
4th Jury Member
Day 30
12
Forgive Me
December 23rd, 2013
Lex
Tyson
4-2-1
12th Voted Out
5th Jury Member
Day 33
13
Tonight's The Night
December 26th, 2013
Candice
Laura
4-2*
13th Voted Out
6th Jury Member
Day 35
14
My Last Breath
December 29th, 2013
Lex
Natalie
3-2
14th Voted Out
7th Jury Member
Day 36
15
Roller Coaster
January 1st, 2014
Lex
Danni
3-1
15th Voted Out
8th Jury Member
Day 37
16
Almost Positive
January 5th, 2014
Candice
Lex
1-0
16th Voted Out
9th Jury Member
Day 38
17
This Journey Ends
January 6th, 2013
Jury Vote
Nick
9-0
Runner-Up
Candice
Sole-Survivor
Ad blocker interference detected!
Wikia is a free-to-use site that makes money from advertising. We have a modified experience for viewers using ad blockers

Wikia is not accessible if you've made further modifications. Remove the custom ad blocker rule(s) and the page will load as expected.